Poster Design Software
Posters take up a lot of our everyday visual space: Friday night concerts, Sunday vegetable markets, artistic meetings with your colleagues and even your kid's favorite band... they are everywhere. Want to add to this collection of unbelievably classy designers and create your own poster? We're here to help! Amadine for Mac is a vector graphics design software that provides professional assistance to graphic makers seeking inspiration.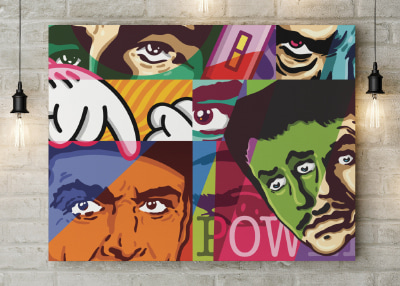 Tools to Create Vector Art Poster
Vector illustration is a great solution for poster design. Works of any complexity are meant to be created in Amadine, the best poster design software, in which every tool and feature is carefully adjusted to create the perfect artistic design. The tools described below will become irreplaceable when working to achieve the most fabulous poster design.
Effects
Use the Text tool in combination with Shadow, Inner Glow, Outer Glow and Blur effects to leave your audience with no doubt about who is the poster pro here!
Boolean Operations
These are priceless for creation of new shapes. They can save you time and pain and dramatically change the artistic process when creating abstract poster illustrations.
Text Tools
As each and every poster has it, there's no denying that the Text tool is in the king's position for poster design. And Amadine software nails it ─ with circular text, text on path and text in shape. In addition, Align helps you position the texts anywhere you wish and in any imaginable position to one another. Those various text tools will make both your headings and texts look unbelievably slick.
Background
Huge thing for a cool vector image and a good add-on for a graphic design app, raster pictures can be used as a fill for your poster background. Thus, your perfectly fitting raster pictures will be used naturally in the vector design.