SVG Editor for the Mac and iPad
SVG format has proven highly useful when creating and sharing vector graphics on both your Mac and iPad. As for the editor, which will cope with all the creative work your SVG contains, there are unlimited options on the internet. Let's dive into the topic and find out about the best SVG editor for Apple devices.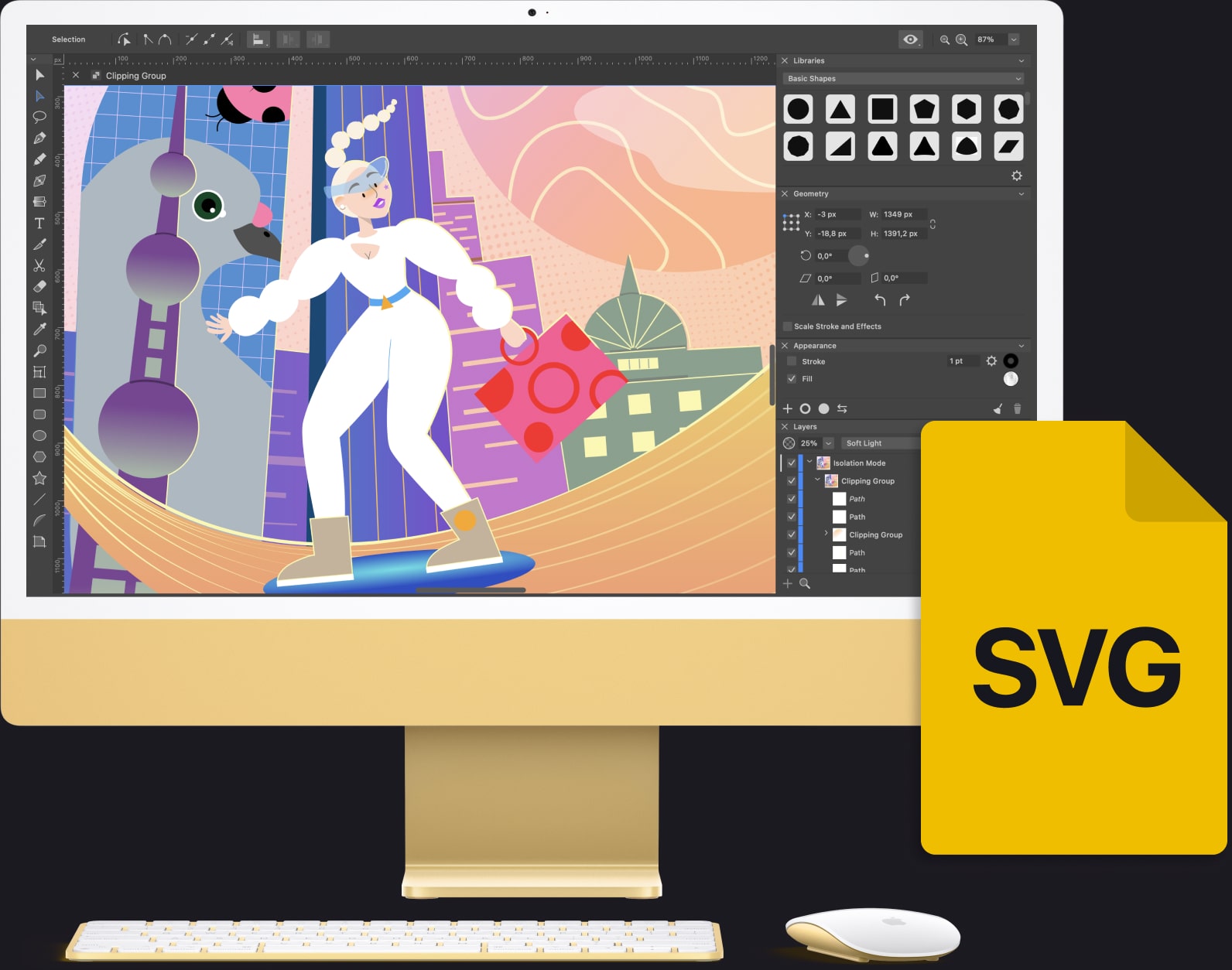 Amadine—Your macOS and iPadOS SVG Editor
Being a native vector-based drawing app, Amadine successfully handles SVG files thanks to unparalleled development and technical decisions. It will display your SVG to the tiniest detail and help adjust it to the needs in hand, whether it is web placement of your document, saving your illustration or safe storage of your files without taking up too much space—you name it.
<svg xmlns="http://www.w3.org/2000/svg" width="98" height="138">
<g fill="none" stroke="#2B67F6" stroke-width="3">
<path class="st0" d="M92.6,135.6H5.4c-1.7,0-3.1-1.4-3.1-3V5.1c0-1.6,1.4-3,3.1-3h59L95.6,33v99.7C95.6,134.1,94.3,135.6,92.6,135.6z"/>
<path class="st0" d="M96.1,33.2l-26.9-0.1c-2.8,0-5.1-2.2-5.1-5L64,1.3"/>
</g>
</svg>
The biggest highlight for SVG export in the Amadine app is that the team managed to save our effects (Glow, Shadow, Blur) as parameterized entities thanks to the SVG filter. As opposed to a lot of other apps, Amadine saves your effects without rendering them into raster, thus providing a lightweight exported file. The SVG format allows you to save the parameters of the effects, so that they are scalable as any vector graphics even after export. The scalability, accessibility, accuracy and resolution independence of the SVG format are discussed in more depth in the article, dedicated fully to this format.
Let's look a little closer at all the SVG-tuned features that make Amadine an ideal choice.
Manipulation of vector objects is super easy with a multitude of tools (e.g., Pen, Draw, Select, Path Width tools, etc.)
Fast and responsive—perfect for a smooth start with SVG graphics
Suitable for both beginners and professional designers
Smooth and uncluttered user interface for flawless editing
Zooming feature for virtuous precision
Amadine allows you to change the color codes so that you can edit the files as per your desire
Unlimited artboards and layers
Effects: glow, shadow, blur
AI files import—Amadine supports Illustrator assets
User's Opinion
As you can see, Amadine is equipped with everything your dream vector drawing app should have, which is confirmed by the Amadine users.
Amadine is what I needed to be 100% happy! Now I have a tool for making vector drawings that is intuitive and so easy to use. I'm an amateur designer just beginning to learn the craft and for me, it's hard to draw beautiful stuff by hand.
After a long search and pain of separation from legacy programs in Windows virtual machines... I think I've found the successor. Slim, intuitive, direct access to all important functions, and practically instantaneous in every process, at least with an M1 Max. Perfect for what I need it for. I'll keep watching, but so far... full marks.
I've been using Adobe Illustrator for over 20 years, and until Amadine there has not been a viable vector art app for iOS. Amadine is a well-made vector app...I've tried to use other iPad vector art solutions, but none ever made the cut. Either too buggy, unintuitive tool/interface design, or just plain confusing or annoying to use. Amadine strikes a great balance between functionality and a minimalist interface...
Instead of Afterword
Handle your SVGs with precision and care with the best editor out there—Amadine. Enjoy the workflow on all Apple devices suitable for design, even on the iPhone. Make the future of design a reality today, and always strive for the best results with Amadine.
Start using Amadine straight away!
Amadine supports macOS 10.12 or higher with both Apple silicon or Intel processor and iPadOS and iOS 13 and higher.