Workspace and Program Interface
The Main Menu
In order to bring up the main menu tap the icon with three dots

near the upper left corner of the main window.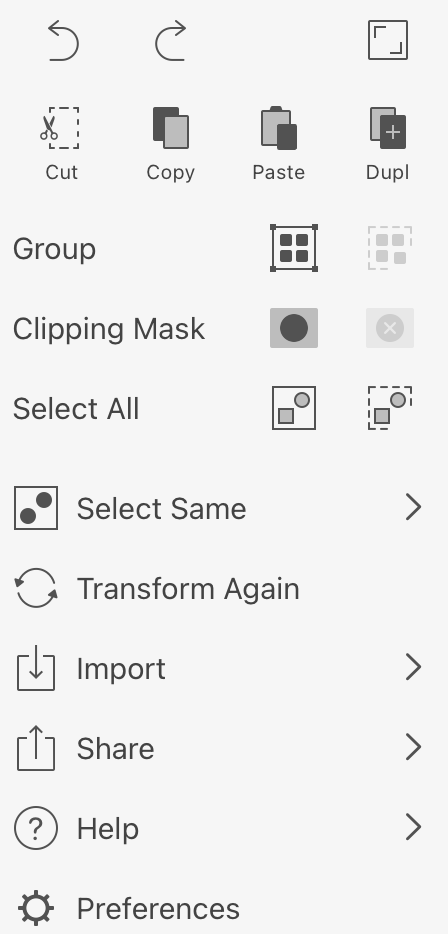 First row of buttons:
Undo: Reverse the last operation that you performed.
Redo: Reverse the last Undo operation.
Hide Interface: Hide all of the tools, panels and buttons except for one. To restore the normal interface, tap on again.
Second row of buttons:
Cut: Cut selected object(s) to the Clipboard.
Copy: Copy selected object(s) to the Clipboard.
Paste: Paste the contents of the Clipboard into the document.
Duplicate: Duplicate selected object(s).
The rest of the commands:
Select All: Select all objects on all sheets except for locked objects.
Deselect: Deselect all that is currently selected.
Group: Group selected objects.
Ungroup: Ungroup a selected group.
Transform Again: Apply transformation according to the setting in the Transform panel.
Import > Photos: Import a picture from Photos to the current document.
Import > File: Import an image from a graphic file to the current document.
Import > Camera: Take a picture using the camera and import that picture to the current document.
Share > Export: Export the current document to a graphic file.
Share > Print: Print the current document.
Help > View Gestures: Show gestures with their function described.
Help > Tutorials: Open online video tutorials.
Help > Help: Open the online documentation.
Help > Contact Us: Send your feedback to the developer.
Preferences: Open the Preferences of the app.