Top Five Best Monitors for Graphic Design
For a graphic designer, the monitor is arguably the most important tool used. Visualizing designs in brilliant detail with a clearly illuminated screen enables a designer to work conveniently and get the best results. The screen size, the resolution and the color accuracy all make a big difference in a designer's day-to-day tasks. But with hundreds of monitors to choose from, and new monitors emerging all the time, how do you know which will serve you best? And which monitors present the optimal balance of tradeoffs between size, features and price?
We've sifted through the most popular monitors to narrow it down to the top five best monitors on the market for graphic design. Our criteria included screen size, resolution, color accuracy, connections and price. You'd likely be happy with any of these from our list, but take note of these options to find out which one may be the best fit for you.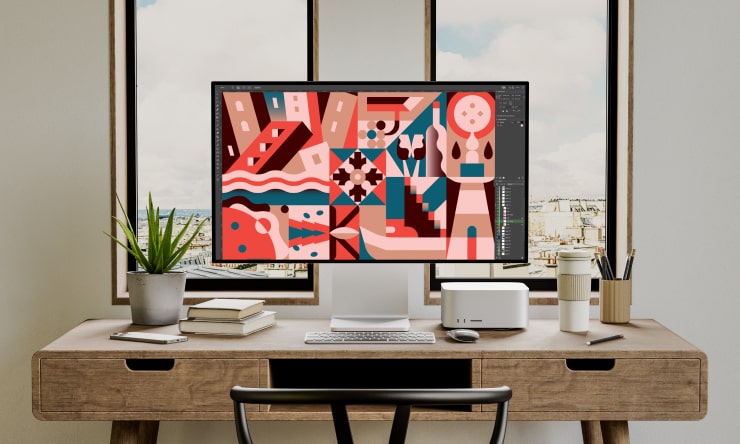 Apple's 32″ 6K Pro Display
For designers who use other Apple products, and for other Apple fans, the number 1 monitor for professional designers is Apple's 32" 6K Pro Display. This monitor's 6K retina is its largest retina display offered yet. It's able to show an impressive range of contrast, thanks to peak brightness of 1600 nits, which is several times higher than average displays. The Pro Display Extreme Dynamic Range (XDR) means brightness and color are at a range that almost makes HDR dull in comparison. Designers love the backlight control, contrast and the incredible color accuracy. There are also helpful presets for print, photography, digital media and a range of design options.
Like with many Apple's products, it's hard not to admire its beautiful, sleek design, encased in aluminum with a 11 bezel on the front. The back is lattice-textured for venting (affectionately known as "cheese grater" to Apple fans). This display also offers anti-glare nano texture glass as an option, for an additional cost.
The stand is sold separately, for around 1000 USD. Which brings us to the price: that may be the biggest downside of the otherwise flawless 6K Pro. Priced at about 5000 USD, it's one of the most expensive monitors, and at that you still have to buy a stand if you don't want to mount it. That said, the specs on this incredible monitor are unparalleled and there is no better option for creative work. Overall, this monitor is sure to delight any designer even at this price.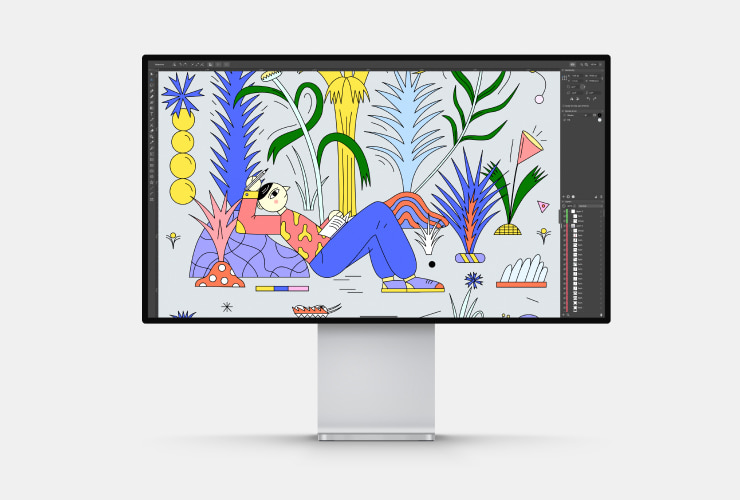 Samsung U-E590D
The Samsung monitor is another option that offers high quality in a range of parameters. The Samsung has 4K resolution for excellent visual sharpness. Though it doesn't have quite the color range of the Apple's XDR, it supports 100% sRGB, which means it's still up to the task for any graphic designer. This monitor has a TN panel, which means that the picture can change when viewing from different angles, as compared to IPS and VA panels. But with a 28-inch screen offering plenty of viewing space, it's not a real drawback for most. This monitor features two HDMI 2.0 ports and a Display Port as well as a headphone jack.
The Samsung is indeed a solid monitor that will support a wide range of creative design work for a humble 250 USD.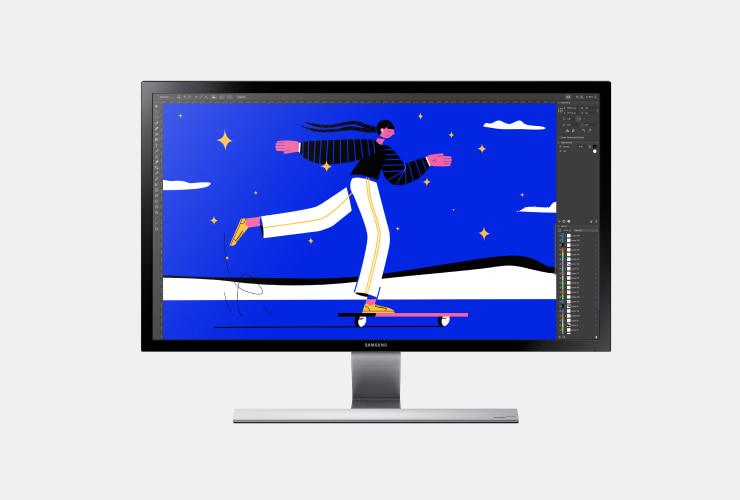 Dell UltraSharp U2720Q
The Dell UltraSharp is another monitor well suited to the job of a digital artist who likes a large screen with a side-by-side picture option. With its 4K resolution, text and images appear extremely sharp, making it an excellent choice for real-world digital design tasks. The color accuracy is excellent, supporting 100% of the sRGB color palette.
This monitor offers more than enough compatibility with other devices through DisplayPort, HDMI and USB connections, Thunderbolt 3 connectivity, and an audio line.
Priced at under 1000 USD, this monitor is a well-priced option for graphic designers who want practical workability without sacrificing much in color and visual accuracy.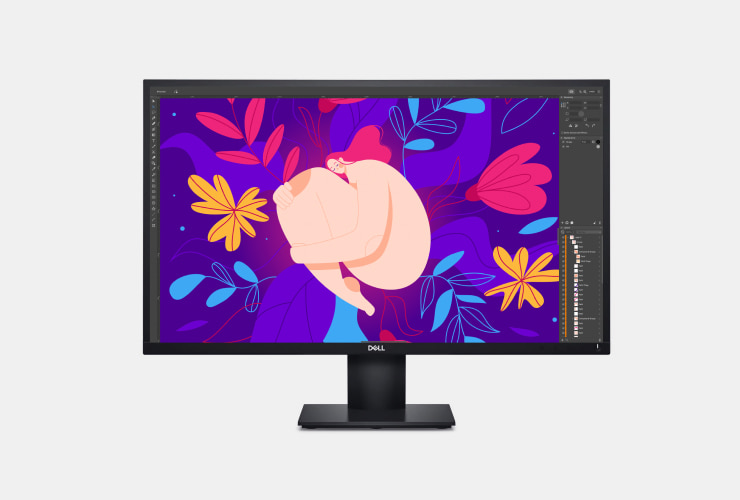 BenQ PD3200U
If you'd rather not aim for the top of the price range, you might consider the BenQ PD3200U, a strong contender for graphic design work. This monitor features high color accuracy, supporting Rec. 709 and sRGB and includes dual view capability, similar to the Samsung. It has three display modes that are ideal for a range of tasks: darkroom, CAD/CAM and animation. Another nice feature is the monitor can tilt 90 degrees, making it versatile for many types of design.
The matte anti-glare finish is helpful, and the display has adjustable settings for brightness, contrast, sharpness and color temperature. To sum it up, the BenQ is a great value, as it meets a designer's practical needs and is priced under 500 USD, making it the top pick for those on a budget.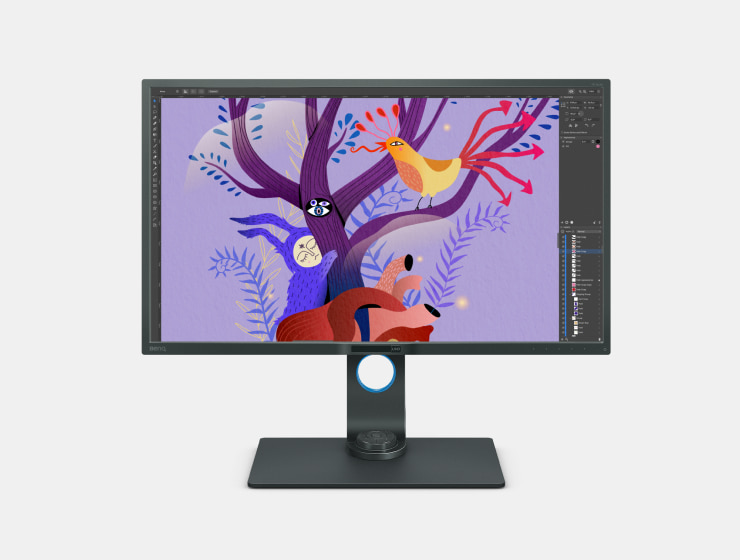 ASUS ProArt PA278QV
The 22″ ASUS ProArt monitor is the best choice for video and photo editing. Like most of the options listed, it offers 4k resolution and a color gamut of 100% sRGB and 99% Adobe RGB for beautiful color clarity that enhances the detail level of designs. The 400 nit peak brightness is more than enough for designers to be able to view accurately in any light. The monitor can connect with devices through micro HDMI or USB-C cables.
The ASUS has an ergonomic stand that can swivel or pivot, and the height is adjustable. As any designer can relate, these features certainly add to the comfort of a screen.
What makes this monitor ideal for photo editing is the ProArt calibration technology, which allows you to adjust color profiles for each project, and it maintains excellent brightness and color clarity.
The only minor issue is that the monitor does not support touch controls, so it requires a laptop or tablet. But given that the ASUS monitor is quite economical, priced at under 300 USD, that may not be a real deal breaker. Overall, the Asus is an excellent choice for video and photo editing work.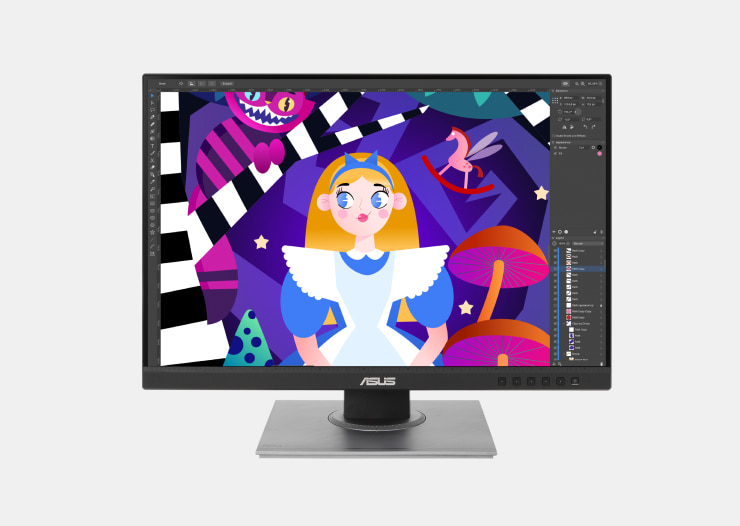 BONUS: Apple iMac with 5K Display
In naming the top monitors for graphic design, we would be remiss to not mention Apple's iMac with 5K display. This is an impressive all-in-one computer and monitor, and a perfect option if you'd rather not have two components. The nano-textured glass screen makes it a pleasure to do highly detailed visual work, especially given the 500-nit brightness, billion colors support and incredible screen resolution. And the AMD Pro 5000 Graphics card makes it perfect for design tasks.
The newest iMac has top performance specs, with 10th-generation Intel Comet Lake processors, speedy solid-state drives (SSDs), and as mentioned, an AMD Radeon 5700XT GPU with 16GB of GDDR6 memory. And it requires no upgrades to be able to seamlessly work from home, thanks to the 1080p FaceTime HD webcam and high quality microphones. The iMac as an all-in-one comes out to a better value than purchasing a 4K and an Apple laptop separately. This, along with the beautiful graphics, make the iMac with 5K another perfect choice for designers.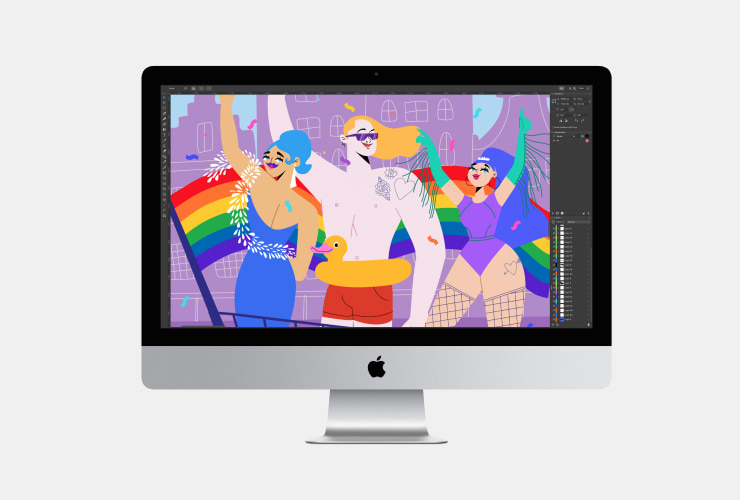 Conclusion
No matter which monitor option you stick to, you now have a range of products to choose from. Any graphic designer can find the needed screen among the top five picks. Our verdict would be the following: Apple has the best professional monitor, if money is not an issue. Samsung screen has a great range of parameters. For digital artists, we would suggest Dell monitor. A BenQ solution is perfect for designers on a budget. An ASUS device would fit for video and photo editing. Apple's iMac has competitive monitor parameters while being an all-in-one computer. Please note that the prices in the article refer to the US market and may be different for other regions. Now it's time to finish reading and set out for the monitor shopping.
Revised in January 2023