Best Computer for Graphic Design
With new hardware and software coming out every year, the choice of the best graphic design computer may seem overwhelming. There are so many factors to take into account. The trick is to find a powerhouse that is capable of handling a particular number of tasks in a fast and flawless manner. The computer specifications have to match not only your digital and illustration needs, but its interface and customization should also work for users who are not so tech-savvy.
This shopping decision depends on the budget you are ready to invest in your graphic design equipment. So, what is the right strategy to pick up the best combination of value and performance? Stay tuned to check it out!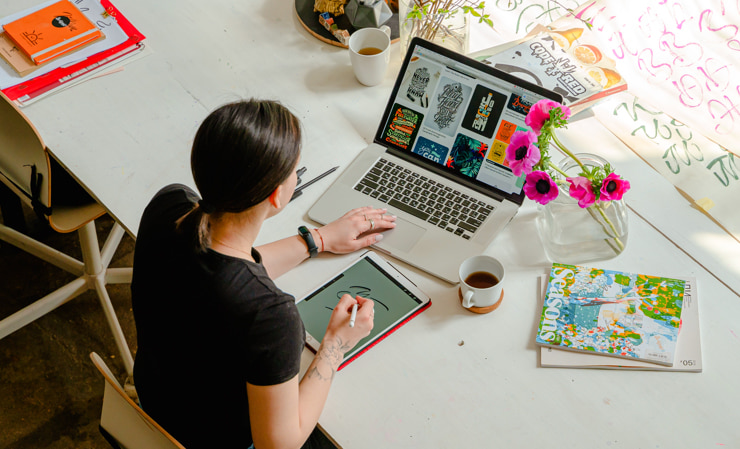 Getting Engaged in the Field
When you take your first steps into the graphic design world, your own gadget will be enough. Though advanced opportunities may be out of your reach since your computer doesn't match the software requirements, it will still support your work. Searching for the best computer for graphic design student edition will result in affordable and convenient platforms.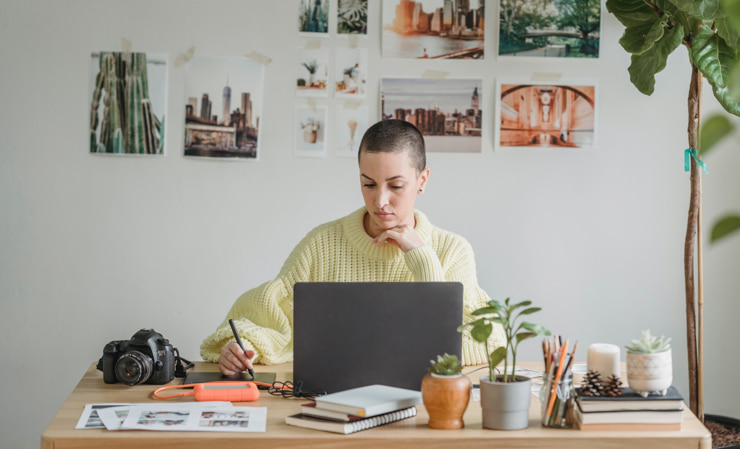 Level Up Productivity
The more aware you are of your own objectives and needs, the more successful the final decision will be. There are myriad computers in the market, and the key is to find out what compromise in quality and price is acceptable to you. Aside from the purchase price, take note of the following parameters:
RAM (computer memory) and storage space available—generally, the more, the better.
Graphics Processing Unit—the same rule of thumb works here. The higher the GPU, the more accelerated 2D and 3D graphics rendering will be.
Hard drive—overall, customers can choose from solid state drives (SSD) and hard disk drives (HDD). With the appearance of SSD, it is unreasonable to proceed with HDD cheaper alternatives, especially when you need to create multiple files and design several projects simultaneously. The speed of operation is of greater value, and SSD excels in that respect.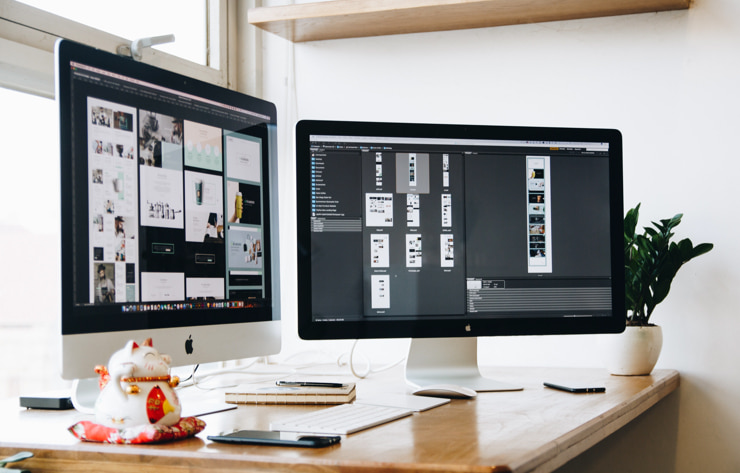 Understanding Your Needs
Thanks to the right graphic design tools, engaged parties can push their boundaries and develop their skills. It is not enough to check the ratings of top-notch equipment sets and pick up the most affordable option. Depending on your occupations, particular requirements for the device's hardware typically include the following:
Animation requires instant visual feedback for every action made. That's why these masters are in need of monitors with great resolution. Other parameters shouldn't be neglected either. For instance, professional in-house pixel tools operate with 64 GB of RAM and are powered by a 64-bit Intel Core i5 processor.
For 3D graphics domination, masters should pay more attention to GPUs. It will take ages to perform basic actions without a capable PC. Special software is demanding in terms of the RAM it requires, so the more, the better. At the least, you should opt for 16 GB solutions.
Compared to other types of graphics, 2D designs allow more compromise with equipment and hardware. Image editing is accessible for beginners via their mobile gadgets. Adding laptop workstations to your wishlist is a good idea, and ergonomic and neat devices will be valuable.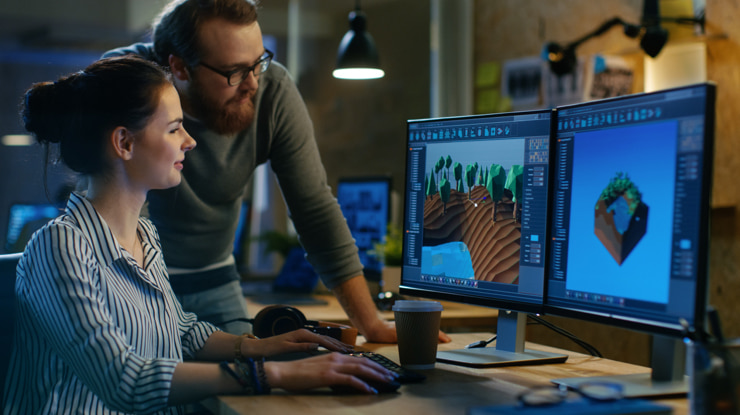 Monitors for Graphic Designs
This hardware is one of the most underestimated among amateurs and newcomers in the field. In order to produce marvelous projects, designers have to perform as accurately as possible. That is where monitors with a perfect balance of color coverage, resolution and performance come in handy.
The brighter and more detailed the picture is, the easier it is to adjust and customize its disparate elements. You will know the difference immediately. Let's consider the example of YouTube videos—do you prefer 720p or 1080p? The answer is straightforward.
The same thing applies to graphic design. If you can't see issues, you can't fix the problem. Regardless of your level, a 4K monitor is a minimum requirement. The screen size and I/O connections are among the must-have parameters to consider. Ensuring your final choice possesses dual-link DVI ports and HDMI channels, etc., guarantees that you will be able to advance your work by plugging into additional equipment pieces.
It is also necessary to distinguish graphic design from gaming monitors. The latter provides low response times, but other specifications may be lacking. All in all, they might solely work for the initial stages in the industry.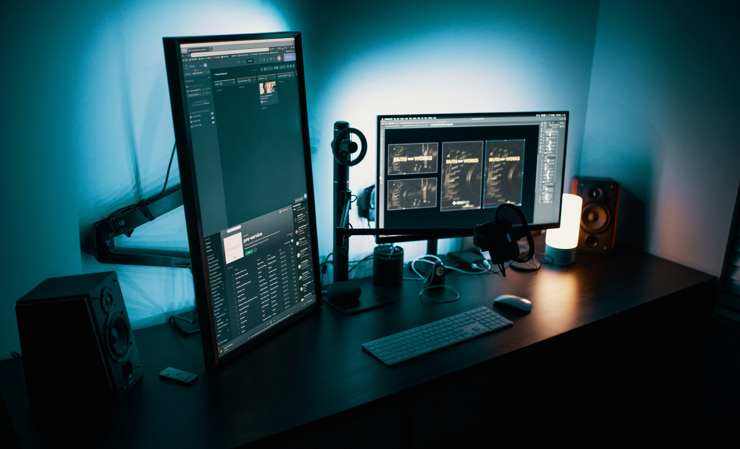 Desktop vs. Laptop
Both solutions may come in handy for designers. While the portability of laptops is great for versatile work, and it offers the opportunity to create wonderful designs anywhere and anytime, desktops tend to be more upgradeable. That means enthusiasts can configure the initial system with other components instead of replacing the entire system in order to boost their performance.
For long working sessions, desktops are more preferable. They have much more capacity to withstand loading pressure and avoid overheating. Laptops are less favorable from this perspective since the equipment heats up quicker. On the other hand, standard personal computers are more electricity dependent than their alternatives, which may be uncomfortable if there are some issues with the network.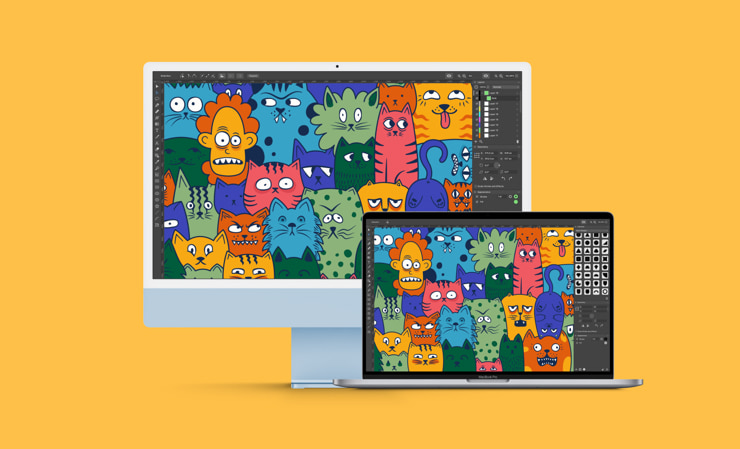 Drawing and Art
For individuals who are more engaged in drawing and making their own handmade illustrations in digital form, tablets and pencils will come in handy. Many professional designers will also insist on connecting a Wacom tablet to any of the desktop/laptop devices, so you always need to make sure the software you run is compatible with your Wacom. Graphic designers aren't that dependent on all of these tools since they apply other tools to deliver a communication message. Instead, they use typography and photography assets to create visual masterpieces.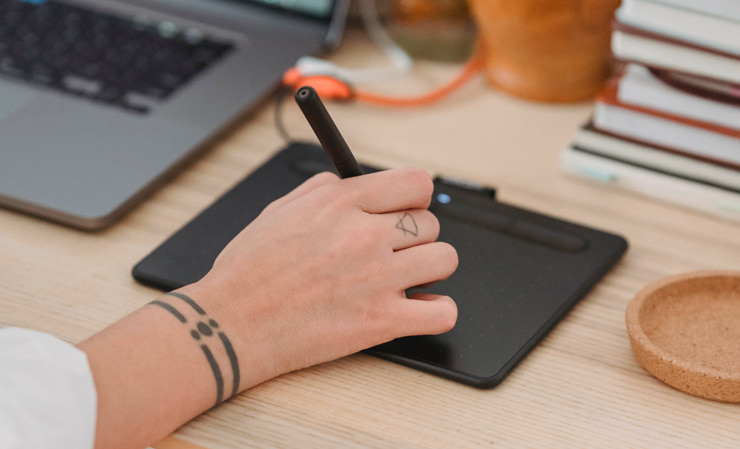 Mac vs. Windows
Last but not least important, which computer is best for graphic design? Ultimately, it remains a matter of preference. Here are some options to consider:
According to several reviews, and expert opinions, M1 Max is the frontrunner among the best Mac for designers. It will suit those who are engaged in video editing, 3D modeling and high-end graphic design.
Dell products are nice and less expensive alternatives to Mac solutions. For instance, the Dell G5 Gaming Desktop is worth selecting for its powerful CPU, graphics and affordability.
From a technical point of view, a Mac is more beneficial for customers. Its design workflow will be more finely tuned thanks to device sync using iPhone, iPad and other Apple devices. In addition, it is widely used in the industry, which will simplify your entry into the professional market. Thanks to applications like Amadine, which differentiate with their Mac and iPad/iPhone compatibility and advanced performance, enthusiasts can create sophisticated designs from scratch effortlessly.
Revised in January 2023