Top Vector Graphic Apps for Mac in 2023
Vector graphics conquer the world of graphic design, one step at a time. Being used in all fields of visual art and design, promoting brands and identities, they form the way we see our life and use everyday objects.
Without a doubt, specialized software is a lifesaver when making professional graphics. Obviously. Among the desktop platforms to use there are two main options—Windows and Mac applications. The processes such as making high-quality illustrations for magazines and books, UI/UX designs, advertisement campaigns, etc. can be hardly "hand-crafted." Windows vector graphics tools are fully functional. However, as practice shows, Mac software is cleaner and more capable when it comes to productivity.
Are you a newcomer in the field of vector graphics design? There is no need to worry—we have already been there. If you would like to become a master and improve your skills, you can't but use professional software for Mac. Which one is the best? Let's check it out!
Amadine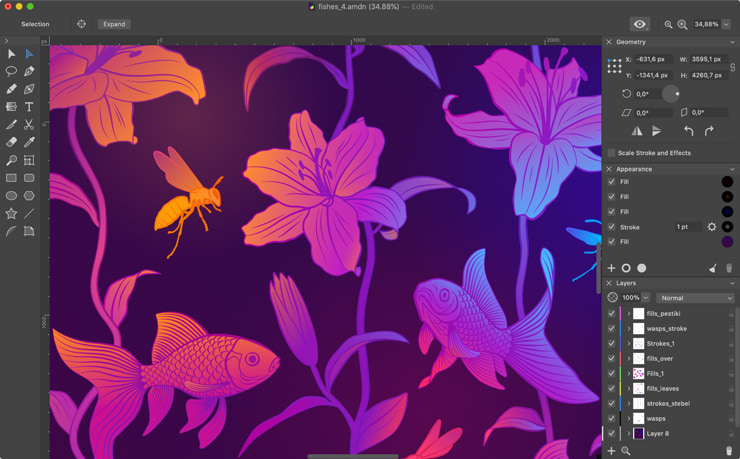 Amadine is a perfect-match solution for those who would like to boost up their professional level. The users can master the newly released app with a smooth learning curve, yet fully feature-packed. The vector graphics app for Mac is distinguished by its modern but bright design, as well as superior efficiency of the functionality offered.
It is a relatively new solution—it has been on the market since 2019 only but has gained outstanding popularity. The version for iPhone and iPad was released in December, 2020. The support team is always ready to assist. Tutorials and how-to articles are super helpful as well. In general, the learning curve isn't a challenge, but there are a few tricky moments.
The manufacturer has "equipped" this solution with various advanced technologies, including Autosave, Core Image, 64-bit Architecture, etc. New features are being added quite often—Recolor panel, vector shape libraries, Fusion tool and Flowing text boxes are just a fraction of the latest updates. It has never been easier to create a complex vector graphics image for a newbie and enjoy the results of this creation across Apple devices with Continuity support.
Pros:
There is no subscription or monthly payment—users have to invest just once for the platform and enjoy the benefits of this vector graphics tool for Mac.
Easy and intuitive navigation, as well as informative documentation from the service provider, promotes a smooth learning curve.
The system offers numerous advanced features at a reasonable price.
Cons:
Beyond the trial, customers have to make the final purchase of this Mac or iPad and iPhone solution.
Amandine won't support macOS lower than 10.12.
Adobe Illustrator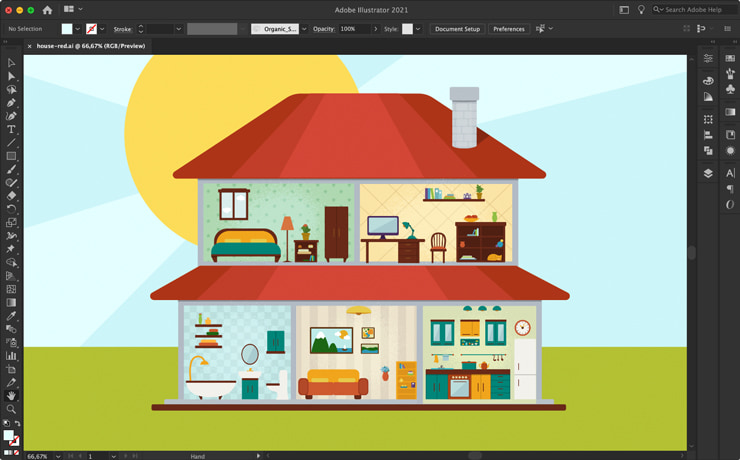 Without a doubt, the chances you have never heard about this program are minimal. It is not just one of the most known and wide-spread—the solution's functionality is also a worthy thing. From creating logos to making more complex vector graphics illustrations—Adobe Illustrator will help you cope with divergent tasks and projects simultaneously.
This subscription service is available for around twenty-one dollars per month. However, there are special offers which usually include discounts for students and commercial organizations, for instance. The compatibility of the software is incredible: apart from Mac, you can prefer to choose from the versions for Windows 11 and 10. Or treat yourself to the iPadOS version, which was released in 2021.
Pros:
Tight integration with other programs of the brand is guaranteed.
With the help of Adobe Stock, consumers can work with over ninety million templates, images, and videos.
Cons:
The program "eats up" a lot of storage space on your Mac/other machine.
The learning curve is a daunting task. The interface lacks intuitive navigation.
Expensive monthly subscription.
Affinity Designer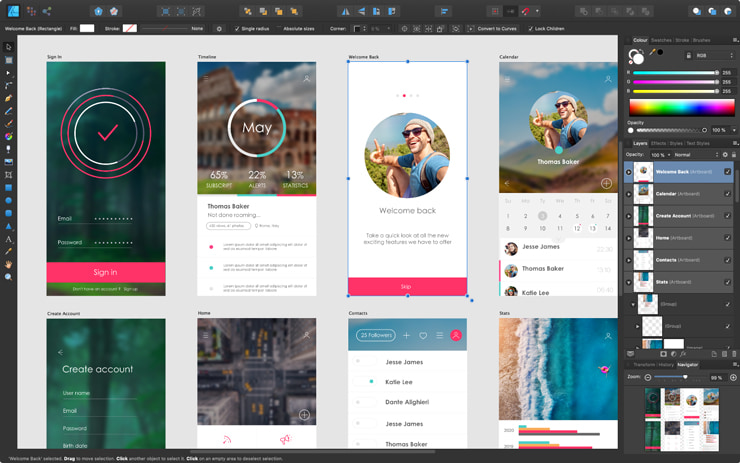 If you are looking for a cheaper solution than the previous one, Affinity Designer may be the right choice. Unlike its more famous competitor, the program under analysis has a simpler and cleaner user interface, while capabilities offered are performed at a decent level. In addition, Affinity Designer launched version 2 in late 2022 with the offer to get the Universal license for the bundle of apps.
The system differentiates with its dual environment—users can perform both raster and vector graphics projects without a hassle. For accurate layouts and amazing control over lines and spacing, feel free to apply grid systems of Affinity Designer. As you may guess, it is just the top of the iceberg—the functionality has something more to amaze you, just check it out.
Pros:
This software is compatible with both macOS and Windows devices and even iPads. The ultimate graphics tool is available for one-time payment—almost fifty dollars.
It is not a problem to take a look at the lines and shapes with a one-million-percent zoom.
Cons:
You can't export ready-made images in AI.
The program for Mac lacks some features that are present in Adobe Illustrator.
Vectornator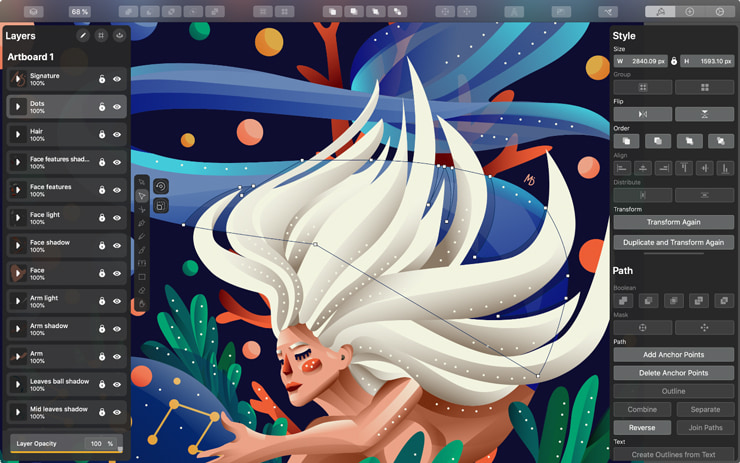 Vector graphics design enthusiasts look forward to finding the best tool for creating beautiful illustrations and sophisticated images and layout. Vectornator is another sample of excellent all-in-one solutions. It will suit various lettering, UI design, and printing purposes.
Unlike several other tools on the market, this software for Mac isn't a challenge to overcome. Excellent lettering and typography, amazing distinct effects, convenient user guide—these are just some of the features you can use to succeed in designing illustrations, printed materials, websites, and more.
The solution is highly compatible, so you can use it in pair with Illustrator or other professional tools for vector graphics on Mac.
What makes Vectornator a unique offer on the market and on the list is its price—users can check the product's capabilities for free. Even though some more advanced features may be absent, the system still has a lot of functional abilities to give a try to.
Pros:
The learning curve is a breeze.
It is available for free.
Cons:
The best way to use the software is to work on an iPad with a pencil tool. However, this option may be inconvenient for numerous users.
It is more suitable for personal rather than for business use.
Sketch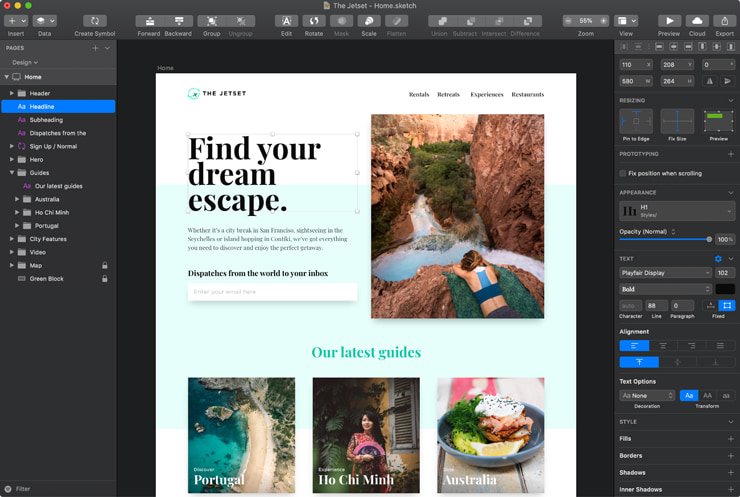 Without the slightest hesitation, numerous specialists consider Sketch top-class design software, and here are some of the reasons why. The solution possesses rich functionality to help enthusiasts master at creating vector graphics projects. Within the system, users are welcome to collaborate and share their ideas/work results.
The very best thing you can succeed in with Sketch is making interactive prototypes, taking UX/UI purposes into account. The Mac program's screen templates are also beneficial. There is an option of free-trial, monthly subscription, and one-time payment.
Pros:
You can try the solution for free for thirty days.
A low learning curve is required.
You can sigh with relief—Sketch can boast of its auto-save function.
Cons:
There may be technical issues in the program's performance.
The number and efficiency of the features present can be improved significantly.
Graphic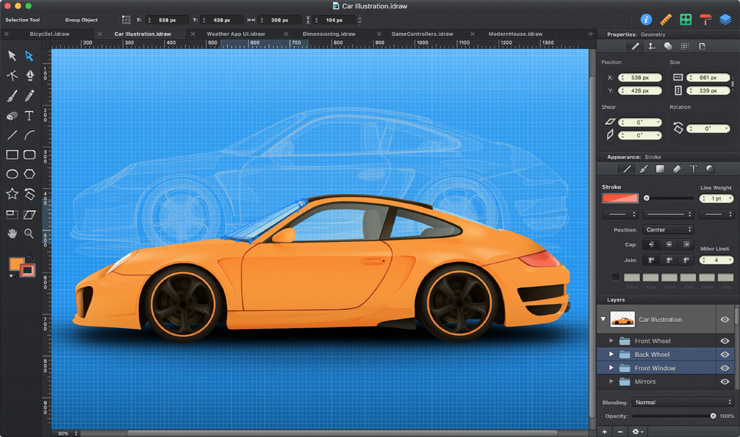 Graphic (you can also find it as iDraw) is a professional software solution designed to create a wide variety of graphic projects on Mac. The program was originally conceived as an alternative to Adobe Illustrator for iOS. Even though this application is slightly inferior to the mentioned competitor, there are several features which make it even more effective.
The most important functions of Graphic (iDraw) include the ability to import and export projects in PSD format, convenient tools for working with layers, a huge choice of brushes, and the ability to independently adjust their parameters. There are also several types of selection tools, tight integration with cloud storage, support for automatic project saving, and much more.
You can download the program directly from the website or at the Mac App store. It will cost you around thirty dollars though.
Pros:
The system possesses excellent CocoaScript architecture.
There are several import and export abilities.
Cons:
There may be issues with creating custom plugins.
CorelDraw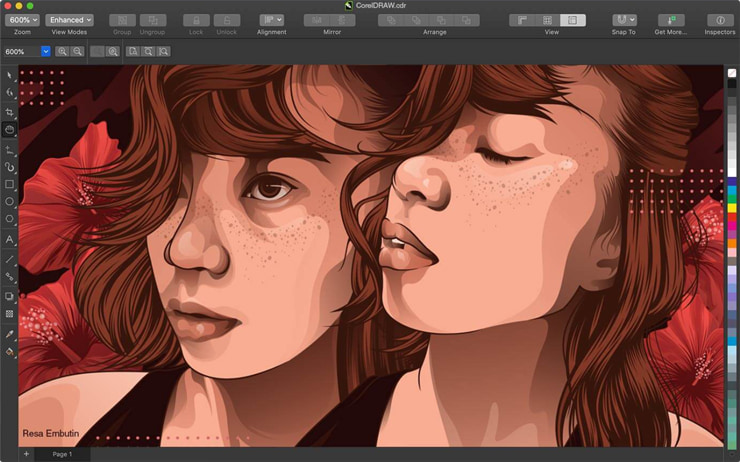 If you would like to experience marvelous functionality in the form of a simple-in-use program, then CorelDraw is definitely one of the options to consider. This vector graphics application for Mac differentiates with its adjustability and scalability. You can also work with numerous traditional and rare file formats like AutoCad, JPG, PDF, TIFF, and others.
The service offers a week of free trial on the Mac App Store, after which you can expect to be charged monthly. For sure, its full website version is pricey, but the developer guarantees a 30-day money-back guarantee if the performance of the tool for Mac will be unsatisfactory.
Pros:
The functionality is second to none, and there are numerous unique features.
The software under analysis is super flexible and customizable.
Cons:
The premium price tag may prevent you from selecting this vector graphics application for Mac.
The program requires a lot of storage space. Besides, the device's system should be ready to cope with such an advanced tool.
VectorStyler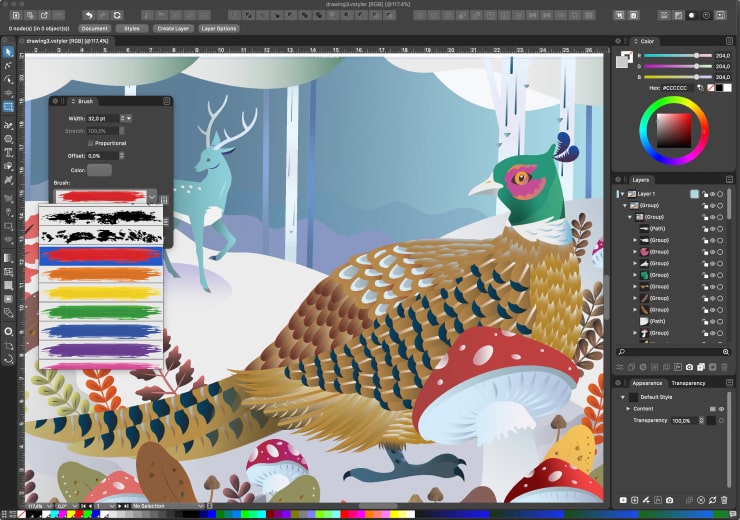 If you've been searching for a solution working on both Mac and Windows platforms, VectorStyler is your go-to solution. You can create the whole array of graphics with it: illustrations, logos, icons, drawings, typography, vector art for screen, print and web. The range of instruments is quite impressive and includes vector brushes, different shape and image effects along with shape builder and typography tools.
The app has no subscription and can be downloaded as a limited time free trial, which is always useful to check if it suits your needs. The price is the same for both the Windows and the Mac platforms. When purchasing at the official website, a 7-day money return guarantee is provided.
Pros:
Feature packed app, useful tools for many types of designer tasks.
Has both Mac and Windows versions.
Cons:
The price may be a bit too much even for the useful features.
Perpetual license only allows the updates for one year.
The interface is overloaded with details and not quite thought out.
Wrap It Up
The market can boast of having several advanced vector graphics design tools for Mac. In this perspective, it is as simple as ABC for end users to choose the best application to suit their particular needs and objectives. The one thing is for sure: every previously present solution is worth considering.
Revised in January 2023