Top Vector Graphic Apps for iPad or iPhone in 2021
Vector graphics have already become a household word for anyone who is just a bit familiar with amateur and professional drawing. In its essence, this type of image depiction uses mathematical formulas and objects for representing artwork. With the help of advanced applications, realizing vector graphics benefits is as simple as ABC.
The analyzed format differentiates with its infinite resolution, lightweightness, extraordinary multipurposeness, and scalability. Whether you are going to implement vector graphics into your web design or marketing campaign materials, the results can become truly magnificent.
To simplify the challenge, the ability to work on the go is highly appreciated. That's why more software providers develop solutions that are compatible with iPad and/or iPhone platforms. Here is a list of top champions in this class. Onwards!
Amadine
When it comes to creating vector graphics designs, the must-have skill for every enthusiast is to get access to qualitative applications, and Amadine is definitely a worthy nominee. Developed with the best high-end traditions in mind, this program will conquer you with essential functionality and a well-thought-out interface.
Within one solution, customers are enabled to succeed with print projects like brochures and magazines, illustrations, web design elements, including icons, mockups, web banners, and more. Precision-driven tools will come in handy for creating variable vector lines and adding a lot of brightness and juiciness to them.
At the same time, the software under consideration will serve excellently for divergent lettering and typography purposes, letting you make complicated designs from scratch without difficulty thanks to informative tutorials and how-to articles. Autosave, Metal 2, OpenGL, and other technologies are icing on the cake.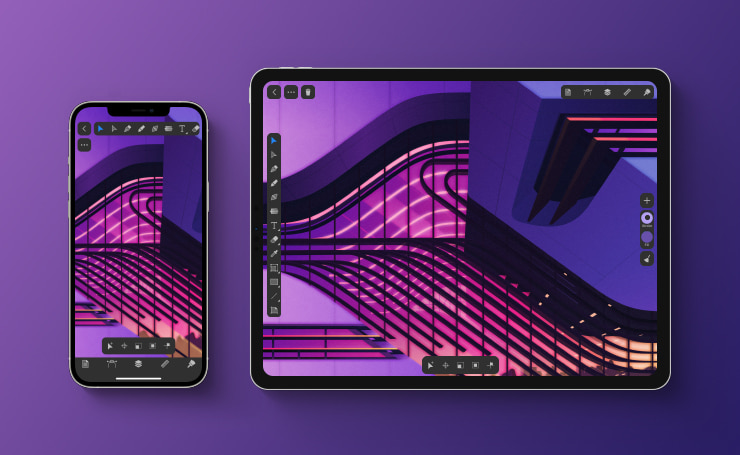 Pros:
One-time payment.
Intuitive UI, promoting smooth learning curve.
Full pack of premium features that are as versatile and flexible as in the original macOS app.
Cons:
Compatibility limitations—it won't work on iPadOS/iOS lower than 13.
The free version will not let you save the design, although allowing to use all of the features.
Adobe Illustrator
Unlike the previous solution, this program is a long-term pioneer in the market. Thanks to its advanced functionality, it is one of the very first recommendations for vector graphics masters. Although it will work for individual projects, small businesses, mid-size companies, and enterprises, you have to be prepared for its steep learning curve.
When you solve the latter challenge, you will be able to enjoy the tool's marvelous scalability, in-panel editing, and a rich collection of supporting features for import and export. Besides, it will allow you to work with raster images as well, even though the functionality will be a bit limited (Photoshop will come in handy for this aim better).
On the one hand, Adobe Illustrator is a rather demanding program. It requires a lot of memory space. On the one hand, it is compatible with different platforms, but your gadget may be simply lower in capacity for this program to download and install. Besides, the pricing policy is a little ambiguous—with different packages, the service provider includes a separate price scale for particular user locations.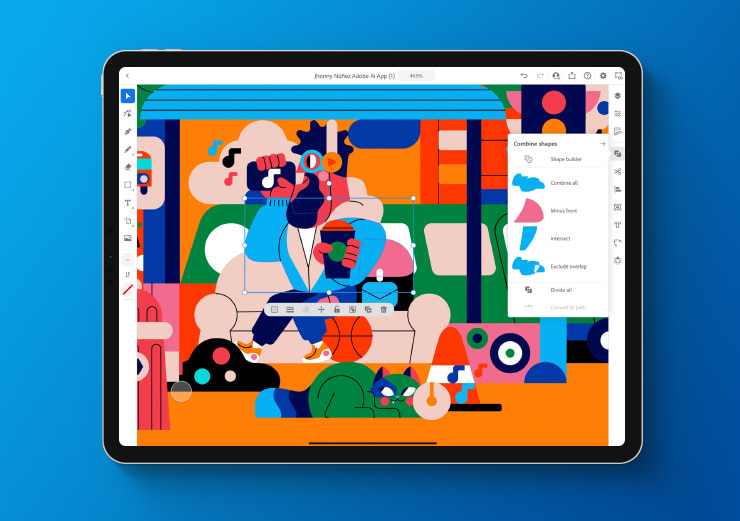 Pros:
Unique advanced functionality that is present in the Adobe package only.
Access to hundreds of templates and supporting materials like videos and images of a decent quality is guaranteed.
Integration with other Adobe products is at your disposal.
Cons:
The user interface isn't intuitive, and the same relates to the program's learning curve.
Your platform has to possess a lot of storage space in order for this software to function properly and flawlessly.
Affinity Designer
That is another application that is perfect in its multipurposeness. Affinity Designer will change the workflow for experts and professional masters for sure. With its help, it is not a problem to create mockups and colorful illustrations for your projects. The learning curve is a rather demanding task. But if you are patient enough, design creatives will be your friends forever and ever after.
One of the greatest benefits Affinity Designer offers is its accuracy in performance. Tools react to the slightest manipulations at the users' end, and advanced grids along with wonderful zooming features allow working on the tiniest details for gorgeous results. The customer support is reactive and proactive.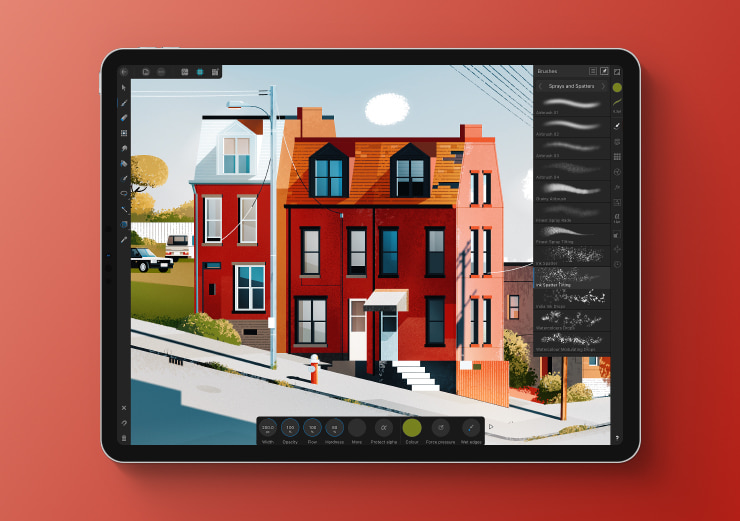 Pros:
Unique functions for flawless vector graphics designer workflow.
Superior color management and advanced tools for asset management and memory system support.
Different modes of work for greater and more visually attractive designs.
Cons:
The lack of ability to design multiple strokes on a few objects and elements at a time.
Editing small vector errors is a daunting task.
Export functions are limited.
Vectornator
There is at least one thing that makes Vectornator better than the solutions described above—its pricing policy. All you need to do is to download the application at the App Store. There are a great number of the supported formats, including the same-named format and non-vector file types.
The learning curve is a breeze, but a special manual book (which you can find on Apple Books) makes it even smoother. In addition, the service provider offers access to the full online documentation and video tutorials to make beginners professional vector graphics designers as fast as possible.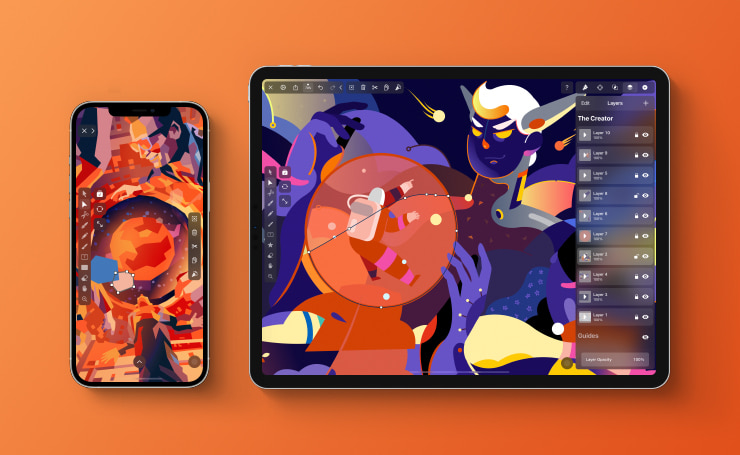 Pros:
Excellent versatility and efficiency.
This program for vector graphics is available for free.
User-friendly interface that comes along with a simple learning curve.
Cons:
iCloud syncing with Vectornator isn't available.
The free version makes many businesses weary of the future prospects, so the software is seen as more suitable for personal use.
Graphic
Vector graphics are easy in realization, which saves a lot of time for creators for fulfilling their everyday duties. However, strengthening your brand depends on how efficient the chosen tool for vector graphics drawing experience is. On the one hand, Graphic is far from the simplest program to master. On the other hand, this product will impress enthusiasts with its flexibility, especially on the iPad Pro and with the Apple Pencil.
The system is appealing thanks to its functions for working with multiple layers and extensive export abilities. On the contrary, there are some features that are better implemented in the Adobe products and alternative software.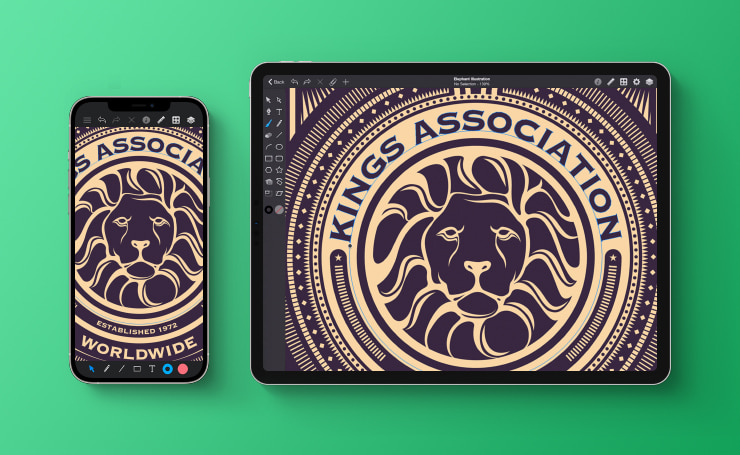 Pros:
The collection of brushes for vector graphics designs is excellent.
It can boast of its dense sharing abilities.
It is a one-time subscription at a fair price.
Cons:
The function of making custom plugins is reduced and somewhat complicated.
The learning curve is steep.
Sketchbook
If you are looking for a professional-caliber program for vector graphics, Sketchbook is definitely included in the list of the recommended variants to go for. Thanks to its divergent functionality and great efficiency, this tool will serve best not just for designers, but also for artistic and architecture purposes.
As it is obvious from its name, the software under analysis differentiates with its scalability and accuracy. This drawing engine works with multiple canvases and offers a wide range of customizable brushes. Its customer support lacks a variety of communication channels, but online reaching is powerful.
The pricing policy involves two packages for individual and enterprise subscriptions. To ensure this is the right shot, feel free to give it a free drive.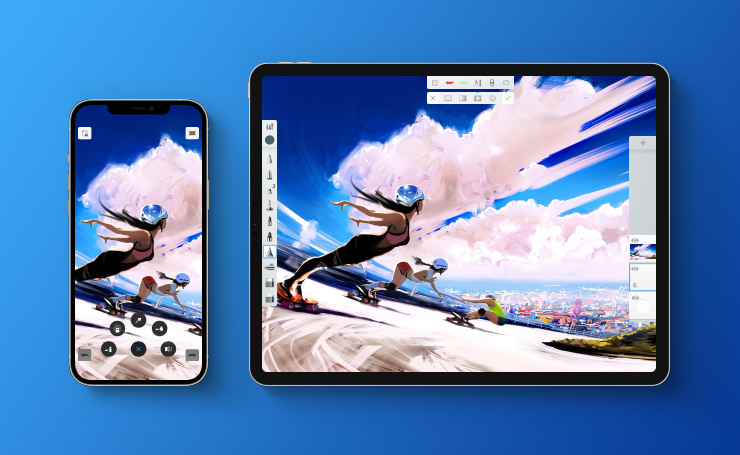 Pros:
It functions for different customer types.
Sketchbook is compatible with both iOS and Android.
The tool offers several import/export formats, including TIFF, PSD, and PNG.
Cons:
Features depend on the package chosen, and some lacks productivity.
There are risks to face technical issues while using this vector graphics application for drawing.
Conclusion
Vector graphics keep on conquering more markets and industries with its marvelous designs. Super eye-catching images with bright colors will become a powerful contribution to your brand's identification and help it stand out among other competitors. The only thing remaining is to consider which application (or a pair of them) is worth your effort and resources.
Adobe Illustrator is known for its efficiency and wonderful tools for vector graphics. If you are looking for a smooth learning curve and a nice combination of features, Amadine is always there. Anyway, each of the highlighted programs will let you shine and rock.